Heavy lifting at work is one of the main causes of occupational injuries. According to the Bureau of Labor Statistics, shoulder and back injuries accounted for more than 36% of all injuries resulting in missing workdays in 2001. The main causes of these injuries were overexertion and cumulative trauma. Bending was the most widely cited action that resulted in a back injury, accompanied by twisting and spinning. Strains and sprains from poorly lifted loads or bearing loads that are either too wide or too heavy are typical risks involved with manually moving objects. Employees who use safe lifting techniques are less likely to sustain back sprains, hamstring tears, wrist fractures, elbow injuries, spinal injuries, and other injuries sustained by lifting large items. Please refer to this page for more information on proper lifting and material handling.
One-fourth of all worker's compensation indemnity claims are a result of back injuries. Low back pain is one of the most common reasons that people miss work, second only to the common cold. In America, we spend more than $100 billion annually on medical bills, disability, and lost productivity at work from back injuries and illnesses. More specifically, this issue causes employees undue stress and suffering, which can have a detrimental impact on their lifestyle and ability to perform.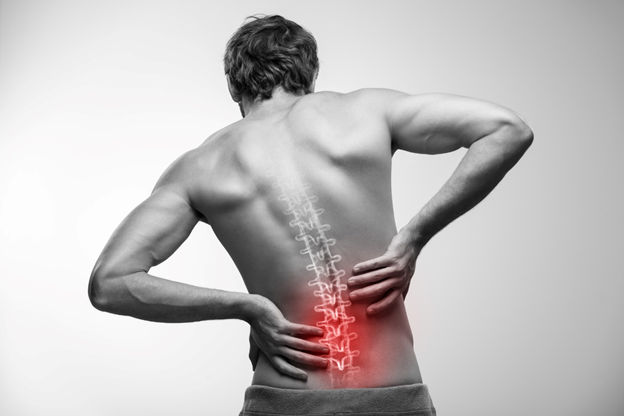 Effects of Heavy Lifting at work
After a while, you may notice that all of you are pushing, pulling, and lifting is putting a strain on your body, especially the back. That's more likely because you've been doing it incorrectly all along. Don't neglect the back pain you're experiencing; it could lead to serious complications. You must understand what you are doing incorrectly and how to properly lift heavy items, particularly at work. Remember that lifting heavy loads may have significant health repercussions if not done correctly no matter how fit you are. Musculoskeletal injuries may occur while lifting, treating, or moving items at work. This involves sprains, strains, and other conditions that, in some cases, may be permanent. When incorrect lifting techniques are used, the risk of injuries while lifting at work increases dramatically. Take control of your health and personal well-being, and prevent accidents that may impact the quality of life in the long run. The Federal OSHA, since its establishment, has ensured that workplaces and workers stay healthy and safe when it comes to potential site hazards and other risks related to Construction work. OSHA 10 Hour and OSHA 30 Hour online training courses will enable all employees in industrial facilities to regulate all job operations, including heavy lifting.
Before lifting at work
Know what you're lifting and how you're going to lift it. Be mindful of the object's weight. Evaluate if it is safe for you to lift on your own. Ascertain that the work environment is flat, dry, and debris-free. Check that the lift direction is straight. Take care of any tripping risks or debris. Look for any muddy or slippery areas. Use lift aids, a forklift, a dolly, a bus, a hand truck, or a hoist. Before using the devices, ensure that you have been properly qualified. Use a two-person lift when carrying difficult or heavy loads. Lift at the same time while keeping the load level. Wear the required safety footwear and clothing.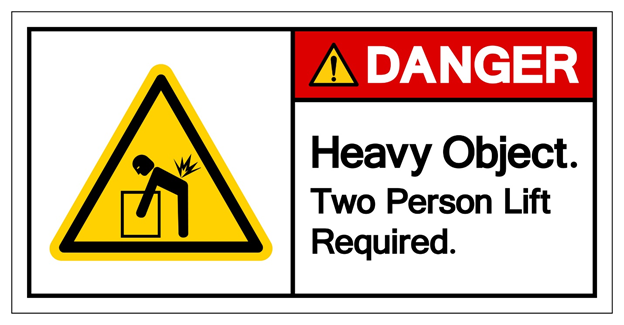 Heavy Lifting at Work Dos and Don'ts
Dos: Determine or test the weight of the piece. Where necessary, use ergonomic lift assists. Have a plan for the lift and clear your course. Get assistance for high or uncomfortable loads. Maintain the item in the power field. For symmetry, take a broad stance. Boost on your knees. To stop twisting, pivot your feet.
Don'ts: Don't get your hopes up. Don't twist or curl at the waist. Don't use a shaky grip. When holding, avoid obstructing your view. Don't jerk or rise abruptly. Don't squeeze your fingertips or toes. If you should drive it, don't pull it. Don't hesitate to put on proper PPE.
Warm-up before heavy lifting at work
Before beginning any lifting job, always warm up your back and legs! We must warm up our bodies in order to increase success and reduce the chance of injury. It is important to prepare the body for jobs. Stretch your low back by standing with your palms on your shoulders. When maintaining hip and leg stability, rotate your upper body up, right, backward, and left to stretch your lower back. Perform 5 gradual circles, steadily increasing the size of the circle each time. Rep the process in the reverse direction. Stretch your hamstrings and Achilles tendon by standing with one leg forward with your toes up. Maintain a straight back while bending over at the hip. A stretch can be felt in the back of the thigh and knee. Then change your weight to your forward leg and bend your knee while keeping your back leg straight and your heel on the concrete. Each stretch should be kept for 20 seconds. Repeat each stretch twice on each knee.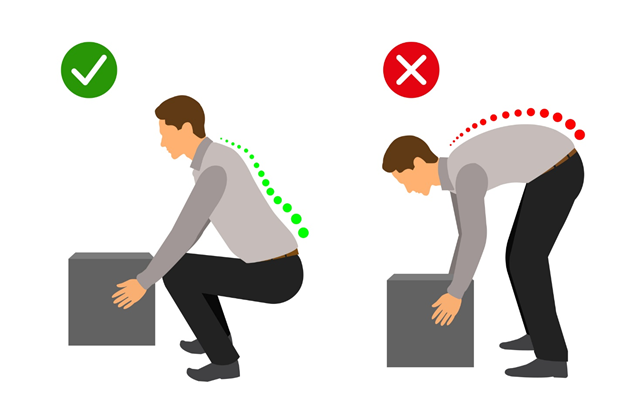 Basic Diagonal Lifting Technique
Attempt to get as close to the object as possible.
For good balance, take a deep stance with one foot forward and to the side of the object.
Maintain a straight back, lift your buttocks out, and lower yourself to the object with your legs and hips.
Get the object as close to you as you can.
Place your hand (on the same side of your body as your forward foot) on the side of the object that is furthest away from you.
When you can straddle the load and use a deep stance, use this simple lifting technique for small things.
Place your other hand on the side of the object that is nearest to you. Your hands should be on opposite corners of the room.
Tightly grasp the object in both palms.
Get ready for the lift by tightening your core muscles, looking ahead and backward, and maintaining a smooth and solid back.
Lift gently, keeping the head and shoulders in line. Keep the weight close to the frame. Lift by stretching your legs and keeping your back upright, and exhaling as you do so.
Lifting Restrictions
According to the National Women's Law Center, if a pregnant employee demands light job assignments based on medical recommendations, an employer who declines to accommodate the order may be committing unethical harassment, even though there are no clear legal requirements for employee healthy lifting. When a doctor recommends an employee not to raise or push items weighing more than a certain amount, the boss should make a fair compromise by immediately transferring the employee to other duties.
Safe lifting requires a variety of strategies and sensibilities and can entail modifying routines and work practices. The ergonomic architecture of the workspace comes into play as well, and OSHA provides workers with advice for efficient and healthy work practices. Work activities include worker lifting preparation, staff turnover, risk management, and consulting with managers about how to perform the job with the least amount of physical discomfort. Employers are required by OSHA to have a clean and non-hazardous work environment, and unhealthy lifting conditions fall under this category.