U.S. Occupational Safety and Health Administration (OSHA) training is an essential component of any safety program because employees have the right to a workplace where there are no unreasonable safety or health risks. We Will Discuss Osha Online Classes Vs Osha Classroom Classes in this blog.
Currently, we offer OSHA 10-hour and OSHA 30-hour outreach courses to help promote the basics of occupational safety and health for several industries. These outreach classes are available in both online and in-person training formats, where each comes with a list of pros and cons.
Before discussing the pros and cons of online or in-person course formats, let's go over what OSHA is and what it strives for.
What is OSHA?
The Federal Occupational Safety and Health Act (OSH) of 1970 created the Occupational Safety and Health Administration (OSHA) to help employers and employees reduce injuries, illnesses, and workplace deaths in the United States; this law finally took effect on April 28, 1971.
What is OSHA's mission?
OSHA works to ensure the safety and health of all-American workers. Most workers in the country fall under OSHA jurisdiction. Other users and recipients of OSHA services include occupational health and safety professionals, the intellectual community, lawyers, journalists, and the staff of other government entities.
OSHA classes – Online vs. classroom training
While OSHA online classes might make more sense for organizations that have more than just a handful of employees enlisted for training from all over the globe, you cannot simply forego the importance of gaining practical experience. This component can only be achieved via in-person safety training.
Personal preference also plays a vital role in deciding the right mode of training. Some individuals prefer to train from the comfort of their home or mobile device, while others thrive in a classroom environment.
The online format for OSHA outreach courses is convenient and affordable since it can be completed remotely (requires internet access). Classroom training, on the other hand, makes it easier for individuals to engage with their trainers and enrich themselves with practical experiences such as one would in Forklift or even CPR Training.
Pros and cons of online OSHA training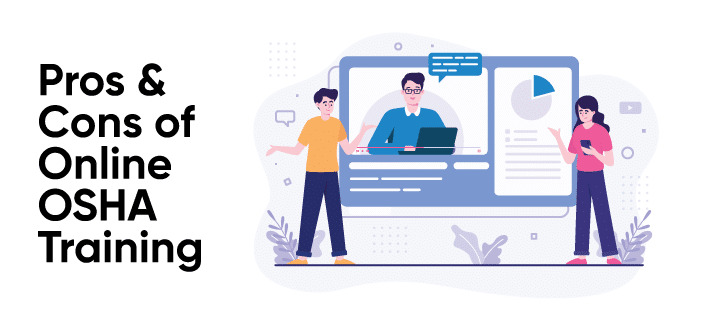 Online training via internet access has allowed millions of people to connect and learn from the comfort of their homes or workplace. Corporations or companies usually opt for online training for several reasons. Let's go ahead and review some of the advantages of online training.
Train remotely from anywhere in the world via internet access.
Learn at your own pace.
Source material for training and learning is available online.
Affordable for workers and employers.
24/7 online support.
With online programs, you can complete the training modules at your own pace without worrying if you will fall behind the rest of the class. You can finish multiple training modules in one day or slow down if time is restricted.
Similarly, you can move past familiar topics and spend time on the ones requiring more attention and learning.
Online classes are comparatively more affordable because employers don't need to reserve space for their workers or compensate them for travel expenses. Employers simply deliver the same quality training to their employees without spending a lot.
The list of cons might be small, but it is important that you read and understand the following points before choosing to go with the online training format:
No live sessions – students cannot get answers about course topics on-spot.
Lack of practical/in-person experience – Some OSHA outreach courses require manual training and guidance that cannot be achieved through online classes.
Distractions – relaxation from not sitting in the class can lead to distractions like social media and other activities.
Pros and cons of in-person OSHA training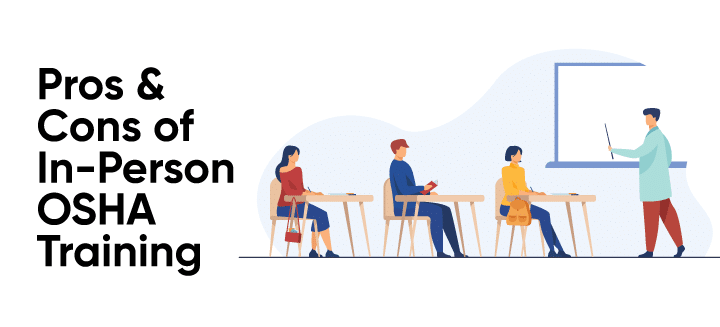 In-person training does not differ much from online classes when it comes to course material and curriculum. Still, it gives students a slighter edge over individuals who thrive in group settings.
Here are the pros of in-person training:
Immediate access to experienced experts.
Immediate assistance with questions and queries.
Shared experience during practical and manual training.
Time-bound learning experiences are intensive but assure employers of your commitment and engagement in coursework.
The classroom-based OSHA training courses are more suitable for employers who want to train their employees on experiences involving heavy machinery or fieldwork since they require live and in-person demonstrations.
Here are a couple of disadvantages of in-person training:
The need for space and time can be expensive.
The course schedule is much less flexible than the one online training since students are enrolled on a time-bound deadline.
What kind of OSHA courses do OSHA Outreach Courses offer?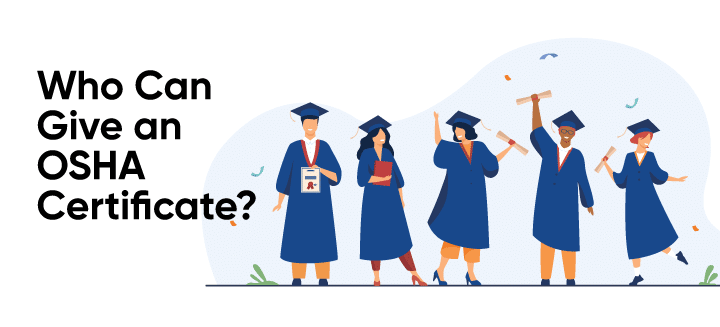 OSHA Outreach Courses currently offer an extensive list of 400+ online safety training courses and resources. The courses and training camp lasts from half a day to several weeks, depending on the type of training, certification, and level.
Individuals can earn wallet DOL cards after completing their OSHA certification online. Here are some of the other benefits of signing up with Osha Outreach Courses:
Get 24/7 help from a dedicated support team
24×7 easy accessibility to online training
Access in-depth course completion reporting
OSHA certificate and OSHA DOL card (for OSHA 10 and OSHA 30 Hour Outreach graduates)
Interactive multimedia courses
Affordable, customized Learning Management System (LMS)
Instant grading and online certificates
Corporate billing and group discounts