Every worker has the right to work in a safe and healthy environment, which is a fundamental principle of OSHA. OSHA Outreach Courses helps employers and employees complete interactive online OSHA courses and programs.
After the Occupational Safety and Health Act of 1970, Congress created the Occupational Safety and Health Administration (OSHA) to ensure safe and healthy working conditions for working men and women by setting and enforcing standards.

OSHA is committed to protecting workers from toxic chemicals and the deadly hazards they might face at their workplace by providing information to workers in high-risk jobs and making sure that they have access to critical information and education about workplace hazards. At the same time, their goal is to also provide employers with safety assistance to help them promote best practices that can save lives.
OSHA coverage
The OSHA Act covers, protects, most private sector employers and their workers, in addition to some employers and public sector workers in all 50 states and certain territories and jurisdictions under federal authority.
Those jurisdictions include the District of Columbia, Puerto Rico, the Virgin Islands, American Samoa, Guam, the Northern Mariana Islands, Wake Island, Johnston Island, and the Outer Continental Shelf Lands as defined in the Outer Continental Shelf.
Programs and Plans
OSHA provides federal programs and state plans, depending on your geographic location in the country.
State plans are OSHA-approved occupational safety and health programs administered by each state. The OSHA Act encourages states to create and manage their occupational safety and health programs that it approves and oversees. Also, it contributes up to 50% of the funds for each program.
The 22 states or territories that have OSHA-approved state programs are Alaska, Arizona, California, Hawaii, Indiana, Iowa, Kentucky, Maryland, Michigan, Minnesota, Nevada, New Mexico, North Carolina, Oregon, Puerto Rico, Carolina South, Tennessee, Utah, Vermont, Virginia, Washington, Wyoming.
Workers in state and local government agencies are not covered by the federal OSHA program but enjoy the protection afforded by the OSHA Act (if they work in states that have a state program approved by this agency).
OSHA rules also allow states and territories to establish plans that cover only public sector workers (state and local governments). In those cases, private-sector workers and employers remain under the jurisdiction of OSHA's federal program. Five other states and one U.S. territory have OSHA-approved state plans that cover only public sector workers, namely: Connecticut, Illinois, Maine, New Jersey, New York, and the Virgin Islands.

With courses designed by authoritative experts with OSHA-approved providers, Osha Outreach Courses delivers immediate and cost-effective educational solutions that improve your safety, compliance, and risk management initiatives.
Exceptions
Not covered under the OSHA Act: Self-employed workers; the immediate families of employers in the agricultural sector; and those who are exposed to occupational hazards regulated by another federal agency. For example, The Mine Safety and Health Administration, the Department of Energy, or the Coast Guard.
There are certain exceptions among miners, transportation workers, many public sector employees, and freelancers. Other users protected by OSHA services are occupational safety and health professionals, community members who hold professional academic degrees, lawyers, journalists, and staff from other government organizations.
OSHA services
OSHA and its state partners have approximately 2,100 inspectors, as well as investigators of discrimination complaints. They also have engineers, doctors, educators, policymakers, and other technical and support staff in more than 200 offices across the country. These professionals set standards of protection, apply those standards, and engage employers and employees through advisory and technical assistance programs.
OTI TRAINING
Many of the OSHA standards require employers to train their employees to work safely, knowing the hazards and how to avoid them. Training must be provided in a language that employees understand.
The OSHA Training Institute (OTI) Education Centers are non-profit organizations authorized by OSHA to provide occupational safety and health training to workers, supervisors, and employers. These organizations are selected through a competitive process based on various criteria including what experience they have in occupational safety and health training; their location and training facilities are observed; and the ability to provide training in a given region.
OTI Education Centers offer courses and seminars on a variety of health and safety topics. They also contribute to OSHA's training mission through other safety and health programs that include community outreach efforts, courses offered in Spanish, and various youth initiatives.
OTI Educational Centers also support OSHA's Voluntary Training Program by offering training courses and processing training requests for course completion cards. The Outreach Training Program is a voluntary program that OSHA does not require or meet OSHA requirements. Still, the outreach program can provide basic safety and health information and education. However, under OSHA law, all required training must be provided and paid for by employers.

Through the outreach program, security professionals can obtain authorization to teach 10- and 30-hour classes on the recognition, avoidance, reduction, and prevention of safety and health risks in the workplace. The program also provides information on workers' rights, employer responsibilities, and how to file a complaint. It is important to note that this is a voluntary program and does not meet the training requirements for any OSHA standard
Although some states, municipalities, or organizations may require more training as a condition of employment, it is not an OSHA requirement. None of the courses within the Outreach Training Program is considered a certification.
How to get an OSHA DOL card?
Authorized by OSHA, approved providers issue DOL cards, upon completion of the course, to individuals who successfully complete an OSHA Extension Training Program. The Extension Training Program offers 10-hour or 30-hour classes for construction, general industry, maritime, and a 15-hour course on disaster topics.
To obtain an OSHA DOL card, you must attend the various individual classes or courses and successfully complete the entire course, including all the necessary topics and the minimum number of contact hours.
Training courses do not meet the training requirements for OSHA standards. An OSHA DOL card is not considered a certification or license and is not required by OSHA. However, some states have enacted laws that require compliance with the training. Some employers, unions, organizations, or other jurisdictions may also require this training.
OSHA cards online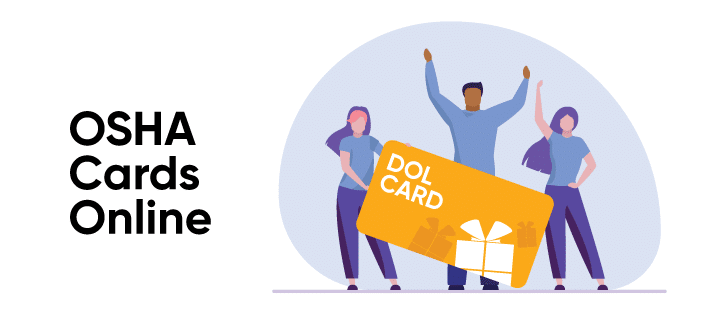 OSHA 10-hour and , 30-hour DOL cards or other classes from the Extension Training Program can be obtained online through independent training authorized by OSHA providers.
If you have technical issues or customer service concerns related to your online Extension Training Program classes, you should contact the online training provider directly to resolve the matter.
If the online training provider is unable to resolve the matter, you can email your concern to OSHA at support@oshaoutreachcourses.com, providing specific information on the topic and all relevant communication between the user and the training provider.
How to find OSHA courses online?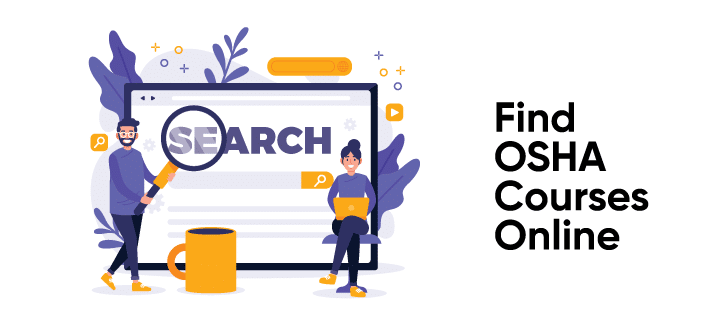 Many employees, private contractors, and professionals working in the service industries choose to receive training and certification through an OSHA course. An OSHA DOL card indicating completion of a certified course or program can assist individuals in professional development and assure the public of a standardized level of knowledge about these issues.
The courses and training camp lasts from half a day to several weeks, depending on the type of training, certification, and level. After completing the course or training requirements, you will obtain a DOL course completion card or certificate.
Courses are available in online modules with a hosted Virtual University and flexible Learning Management System (LMS).
HOW TO APPLY?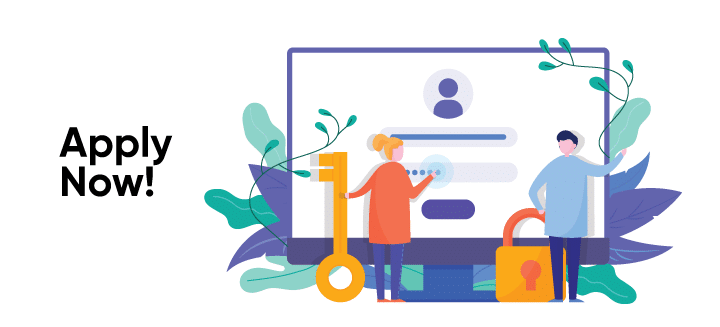 Review the program requirements to determine the appropriate certificate program (Construction or General Industry).
Find and sign up for courses using the search course program.
Upon successful completion of the course, participants will receive an OSHA Outreach DOL course completion card within 6-8 weeks