The Occupational Safety and Health Administration (OSHA) publishes an annual list of the 10 most frequent safety and health violations. So it is based on almost 32,000 inspections of workplaces carried out by federal OSHA staff. Unfortunately, this list rarely changes. So year after year, our inspectors see thousands of the same dangers that can result in death or severe injury.

Most Cited Violations
The 10 most cited violations are the following:
Fall Protection, General Requirements (1926.501) – Failing to offer fall protection remains the number one violation since 2017.
Risk Communication (1910.1200) – Do not develop a risk communication program, nor train employees, nor provide the corresponding safety data sheets.
Scaffolding, General Requirements (1926.452) – Unsuitable platforms, not using systems to prevent falls and improper scaffolding location.
Respiratory protection (1910.134) – Do not prepare a respiratory protection program or carry out the necessary fit tests.
Locking / Signaling (1910.147) – Do not develop energy control programs, train employees, or use lockout/signaling in operations.
Stairs (1926.1053) – Improper use of stairs. This includes the use of stairs in poor condition and not extending the rail three feet above the landing.
Industrial Motor Vehicles (1910.178) – Use of defective industrial vehicles and not certifying operators.
Fall Protection, Training Requirements (1926.503) – Failure to train employees on fall protection rose to # 9 in 2017.
Machine Protection (1910.212) – Not protecting the operating point. Incorrectly placing protection. Machine Protection ceased to be violation # 8 in 2017.
Personal Protective and Rescue Equipment, Face and Eye Protection (1926.102) – New addition to the 10 most cited violations, most common among roofing contractors who do not use proper PPE (Personal Protective Equipment).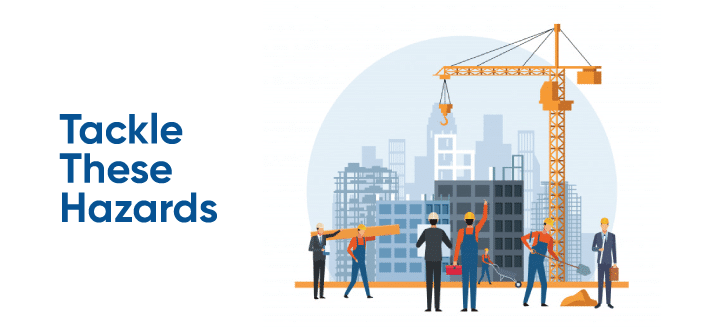 Tackling Workplace Hazards
The law mandates employers to provide a safe and secure workplace. So unsafe working conditions account for over 4,500 casualties and about 3 million injuries each year. If employers make an effort to provide safe workplaces, these figures can be reduced significantly.

It is no coincidence that falls are one of the leading causes of death among workers, particularly in construction. So our list of the top 10 violations shows the lack of protection against falls and safety issues related to ladders and scaffolding. So employers must seriously address these issues.


We also see too many workers killed or horribly injured when machines suddenly startup while they are being repaired, or when hands and fingers are exposed to their moving parts. In this regard, the guilty violations are commonly those related to blocking systems and labeling. Proper lockout and tag-out procedures ensure machines remain off and cannot be turned on while someone is working on them. And installing machine guards to keep hands, feet, and other parts away from moving machinery prevents amputations and other even worse calamities.
Respiratory protection is essential to prevent long-lasting and sometimes life-threatening health problems associated with inhaling asbestos, silica, and a host of other toxic substances. But we can see from our list of violations that definitely not enough employers are offering adequate protection or necessary training.
The high number of forklift-related deaths and the high number of offenses related to motorized industrial vehicles' safety indicate that many workers are not adequately trained to handle this type of potentially dangerous equipment safely. Completing the list of the top 10 violations are those related to electrical safety, an area where hazards are known to be destructive to both people and property.
Create a response plan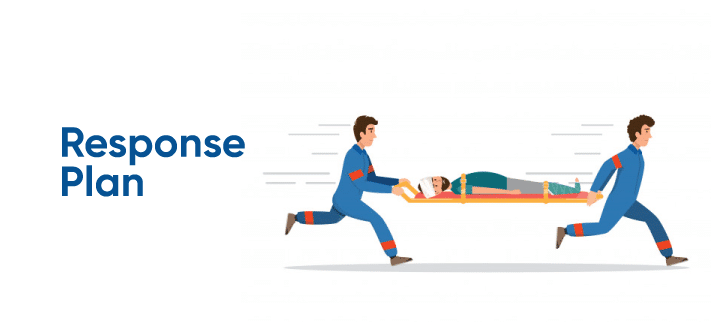 Despite all our efforts, accidents sometimes happen. If an accident should occur in your workplace, you need a plan that allows everyone to act quickly and efficiently. Here are a few guidelines to keep in mind when creating a response plan:
1. Provide help
Many times in the heat of the moment, those who respond immediately to an emergency don't know what to do. Make sure that providing first aid or requesting emergency medical help is quick and easy.
2. Report the incident
Appropriate personnel within your workplace must create a system for recording all reported incidents. Additionally, these reports must be recorded and retained to review common incident areas and must be provided to your insurance company.
3. Identify ways to avoid the accident in the future
This is where you can identify training areas, different products or needed signage, and maintenance practices that can be used to ensure employee safety and to be in compliance with OSHA standards in the future.
Our OSHA 30 Hour online training courses educate industrial workers on how to draft and execute an effective response plan in case of emergencies and mishaps. In addition, enrolling in OSHA 30 training will bring several advantages, such as employees' medical insurance course decreases, lost workdays lessen, and work performance enhances.
Call to Action
Our list of the main infractions is far from complete. The OSHA regulations cover a wide range of hazards, all of which put at risk to the health and safety of workers.

We call on employers to go beyond the minimum requirements in a way that they decisively contribute to creating a culture of job security that has demonstrated its ability to reduce costs, increase productivity, and improve morale. We have published new recommendations for creating a health and safety program in your own workplace to assist you.

Many additional resources are also available, including a wealth of information on our website and our free and confidential on-site consultation program. But fighting the most common dangers is a good place to start saving the lives and limbs of workers.
To get more details about OSHA courses visit our website: OSHA outreach courses.