Arsenic toxicity is a medical condition that occurs due to elevated levels of arsenic in the body. So arsenic poisoning can occur over a brief period of time. So the symptoms may include vomiting, abdominal pain, encephalopathy, and watery diarrhea that contains blood. Long-term exposure can result in thickening of the skin, darker skin, abdominal pain, diarrhea, heart disease, numbness, and cancer.
Contaminated drinking water is the most common cause of long-term exposure. So natural processes most often lead to arsenic toxicity in groundwater. However, contamination can also occur as a result of mining or agriculture. Soil and air may also contain arsenic traces. Recommended levels in water are less than 10–50 g/L. So other routes of exposure to arsenic toxicity include toxic waste sites and traditional medicines. Most cases of arsenic poisoning are accidental. Arsenic acts by changing the functioning of around 200 enzymes. Diagnosis is by testing the urine, blood, or hair.
Arsenic poisoning can be avoided by drinking water that is low in arsenic. Using specific filters or rainwater can help avoid arsenic toxicity. There isn't enough information to back up certain long-term poisoning therapies. Doctors must treat Dehydration in cases of acute poisoning. The World Health Organization (WHO) estimates that 200 million people across the world are exposed to unsafe levels of arsenic poisoning through drinking water.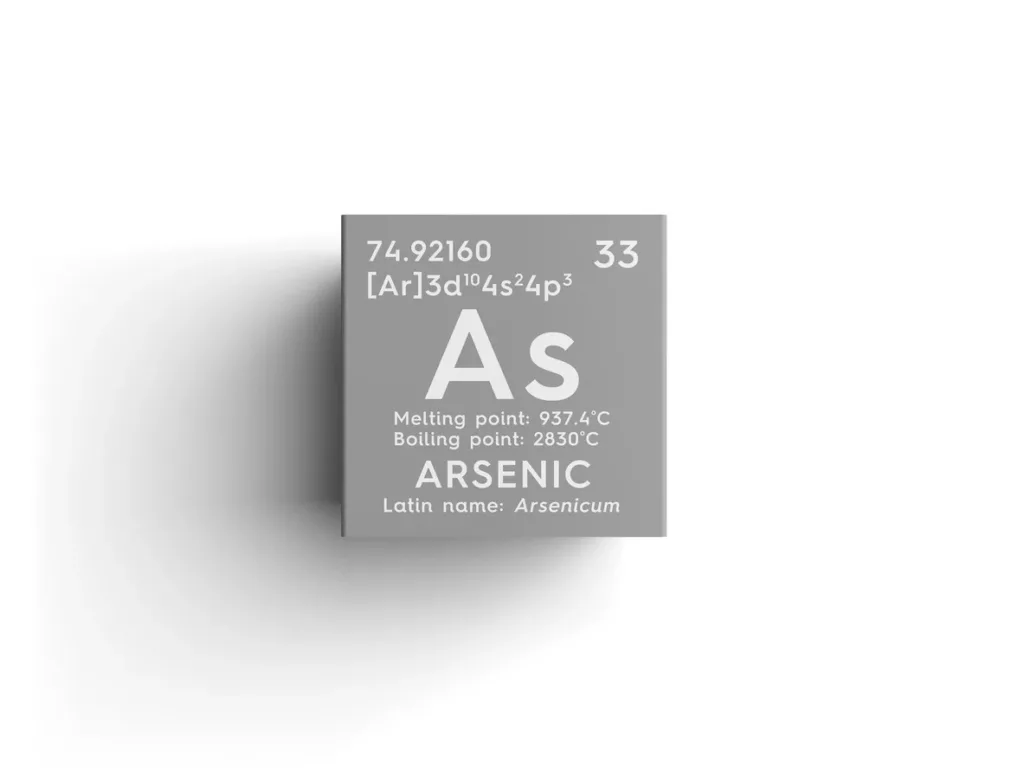 Symptoms of Arsenic Toxicity
Arsenic toxicity can cause the following symptoms:
red or swollen skin
skin changes, such as new warts or lesions
abdominal pain
nausea and vomiting
diarrhea
abnormal heart rhythm
muscle cramps
tingling of fingers and toes
Long-term arsenic exposure might result in more severe symptoms. If you have any of the following symptoms after suspected arsenic exposure, you should seek immediate medical attention:
darkening skin
constant sore throat
persistent digestive issues
Long-term symptoms of arsenic toxicity appear initially in the skin, according to the WHO, and can appear within five years of contact. Extreme poisoning can result in death in some cases. Heart disease, cancer, stroke, chronic lower respiratory disorders, and diabetes are all linked to arsenic. Chronic arsenic exposure is linked to vitamin A deficiency, which has been linked to heart disease and night blindness. Arsenic's acute fatal dose in adults is estimated to be 70 to 200 mg or 1 mg/kg/day.
Common Causes of Arsenic Poisoning
Contaminated groundwater most commonly causes arsenic toxicity. Arsenic is naturally present in the ground and can contaminate groundwater. In addition, groundwater may contain runoff from industrial operations. Drinking arsenic-contaminated water for an extended length of time can cause poisoning.
The following factors may also cause arsenic poisoning:
breathing air that contains arsenic
smoking tobacco products
breathing contaminated air from plants or mines that use arsenic
living near industrialized areas
exposure to landfill or waste sites
breathing in smoke or dust from wood or waste that was previously treated with arsenic
eating arsenic-contaminated food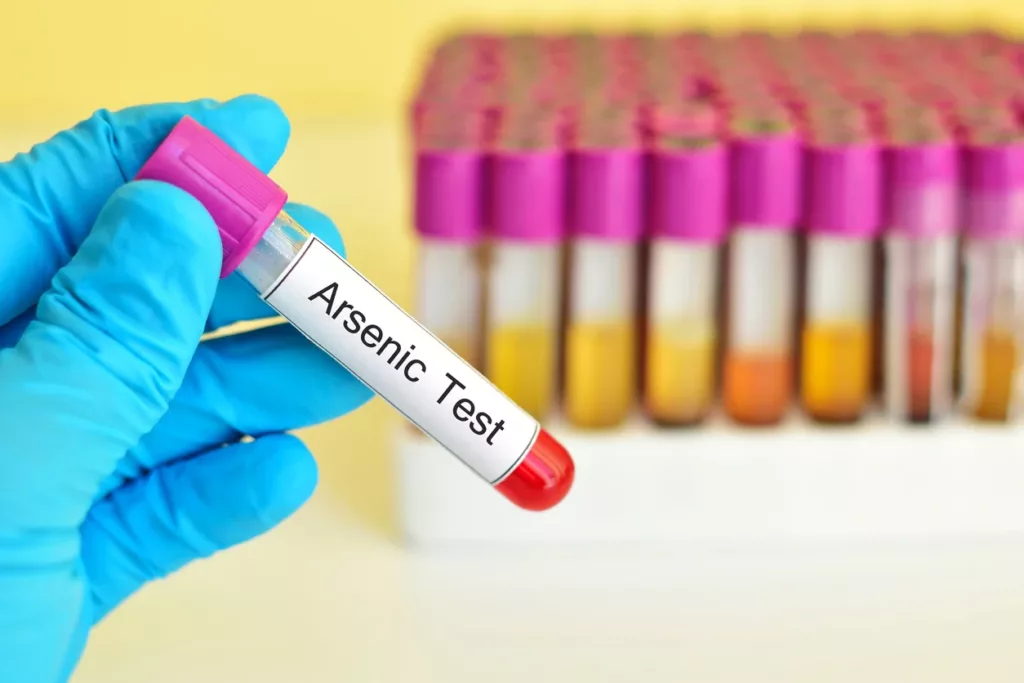 Preventing Arsenic Poisoning
Groundwater is undoubtedly the most common source of arsenic poisoning. The most effective way to prevent arsenic toxicity is to ensure you drink only clean filtered water. It is also important to prepare your food using only clean uncontaminated water. Be sure to use only bottled water when traveling in regions that are known to have contaminated groundwater.
Many industrial workers expose themselves to a greater risk of arsenic poisoning than those who work in indoor offices. People working in mines or in industrial units where arsenic is used in the production process are particularly vulnerable. They should be provided with the appropriate Personal Protective Equipment (PPE) whenever there is a likelihood of skin contact with arsenicals. To make things easier for workers, OSHA highly recommends enrolling in OSHA 10 Hour and OSHA 30 Hour General Industry training courses, which educate about site hazards, teach how to select and use Personal Protective Equipment (PPE) pertinent to job operations, and other important site safety topics.
The Occupational Safety & Health Administration (OSHA) has also recommended the following precautions when handling arsenic compounds:
Do not eat, drink, smoke or apply cosmetics in the workplace.
Wear appropriate protective clothing such as coveralls, gloves, impervious boots, hat, goggles or a face shield whenever there is a likelihood of skin contact with arsenicals.
Wear a respirator if the airborne concentration of arsenic compounds exceeds the OSHA Permittted Exposure Limit (PEL).
Take a shower at the end of the work shift. Do not wear or carry any work clothing home.
It is always good to take these measures to avoid arsenic poisoning. However, industrial workers are exposed to greater levels of arsenic poisoning through inorganic arsenic. They should receive formal training to avoid arsenic toxicity. Taking our Arsenic Awareness training course will help keep you safe from the dangers of arsenic exposure. In addition, having a DOL card will always give you preference over other employees since General Industry employers require OSHA-certified workers to enhance the financial position of their facility.